I've always loved this song. It was written and originally sung by Bruce Blackman with the band Starbuck in 1976.
Upon first hearing it I was immediately enchanted by the unusual chord changes, groundbreaking synth work and the blazing marimba solo played by the late Bo Wagner. Cool vibe, pop-fest!
Here's my take on this classic fave.
-Mike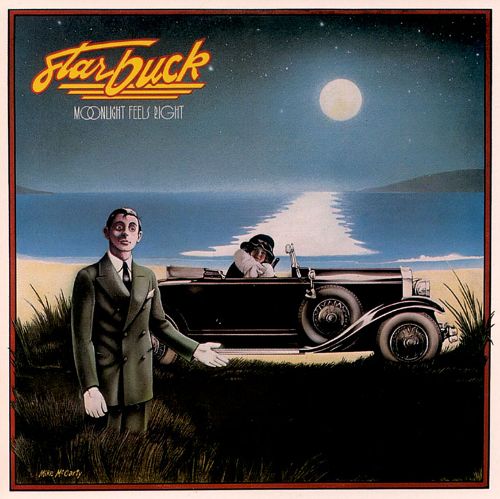 Lyrics
The wind blew some luck in my direction
I caught it in my hands today
I finally made a tricky French connection
You winked and gave me your O.K.
I'll take you on a trip beside the ocean
And drop the top at Chesapeake Bay
Ain't nothing like the sky to dose a potion
The moon'll send you on your way
Moonlight feels right
Moonlight feels right
We'll lay back and observe the constellations
And watch the moon smilin' bright
I'll play the radio on southern stations
'Cause southern belles are hell at night
You say you came to Baltimore from Ole Miss
Class of seven-four, gold ring
The eastern moon looks ready for a wet kiss
To make the tide rise again
Moonlight feels right
Moonlight feels right
We'll see the sun come up on Sunday morning
And watch it fade the moon away
I guess you know I'm giving you a warning
'Cause me and moon are itching to play
I'll take you on a trip beside the ocean
And drop the top at Chesapeake Bay
Ain't nothin' like the sky to dose a potion
The moon'll send you on your way
Moonlight feels right
Moonlight feels right
Moonlight feels right
Moonlight feels right
My outro piece:
Can you feel the moonlight
Raining down upon us
Soft and warm and flowing
Over you and me
See the ocean glowing
Feel the wind inviting
Everybody to be
Safe and free
Credits
All vocals, instruments, arrangement, engineering, mixing, mastering by Mike Lorello
Equipment Used
-Roland TD-11K E-Drums
-Jay Terser Hofner Violin style Bass
-James Tyler Variax Guitar
-Fender Grand Concert Acoustic Guitar
– Arturia Piano V2
-Abbey Road Keyboards Challen Piano
-AAS Lounge Lizard Rhodes
-Korg Polysix
-Datsounds OB-Xd
-Arturia Solina
-East West Quantum Leap Symphonic Orchestra
-Tanpura
-Neumann U87 Microphone